PHS Girls Cross Country Wins Districts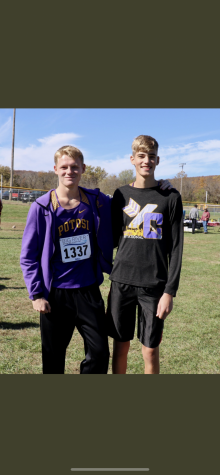 On Saturday, October 31, PHS girls and boys track teams competed in the Class 3 District 3 Cross Country Meet at Arcadia Valley. The girls team captured first place and a trip to the MO State competition. The boys team finished in third place. 
The girls team top finishers for the girls were Celeste Sansegraw 2nd, Gracie Shutz 6th, Alyson Skiles 7th, Carlee Moss 9th. However, only four girls medaled the girls team took first place in districts allowing all the girls that competed to advance to state. 
The boys team top finishers were Zeke Sisk 12th and Will Jarvis 15th only by 10ths of a second. All of the boys did well just missing second place by 8 points.
PHS boys sophomore runner Jaden Kanan said, "Even though I fell short this year, this race has motivated me even more for next year. All of the runners did very well this season and all worked hard." 
To continue on to the State meet runners have to be on the top two teams or place top 15th individually. Sisk, Jarvis, and the entire girls team will participate in the MO State Meet on Thursday, November 5 at Gans Creek in Columbia, Missouri.