Noah's Dedication and Kindness are Helping PHS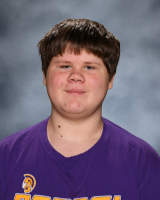 Everybody wants to be the star of the school or the student that gets most recognition. Some students are recognized for their book smarts, while other students are recognized for their accomplishments on the athletic field. However, some would say that the most important lessons we learn at school are about how to be a good person. PHS sophomore Noah Wehrheim is one of those people that go every day with no recognition or applause even though in my opinion, he is one of the greatest students at PHS. Some students do good things every day without the applause, but Noah does what many of us would not want to do, just to be of service to others. He doesn't ask for much and does not expect people to go out of their way for him. Maybe you've never noticed his service. Or maybe you have and just didn't think anything of it but over these past couple weeks I've learned so many things about Noah.
For starters, Noah is selfless. Noah spends his long days in the Potosi High cafeteria helping Jeff Pashia clean up student messes. At first, I thought it was a little odd, until I spoke to Jeff and he expressed that Noah enjoys what he does. Noah finds joy in helping out around the school and hanging out with his favorite staff. Noah doesn't need to be told when and where there's a mess to be cleaned because he's already on it! Noah takes matters into his own hands and tries to do it himself unless help is needed.
Outside of Noah and Jeff's work ethic, they have a very close bond. Jeff had mentioned to me that they even "prank" each other when there's no work to be done. Jeff stated they Noah is very loyal to him and likes working with him more than anyone else. He says they have a very strong bond that no one at PHS can compete with.
Noah is also very creative and open-minded. Noah likes to spend his free time at home learning new songs and dances. Jeff explained to me that Noah actually likes to choreograph his own dances. One day I watched as Noah showed one of the lunch tables his newest moves. Noah shows me the definition of bravery. Jeff says that Noah's always cutting up and prancing when theirs no work. 
After high school, Noah plans on being a janitor or working at his dad's restaurant. Mrs. Degonia says that Noah loves to cook which is why she thinks he will end up working in the food industry with his dad. Noah is very motivated when it comes to working and getting the job done which I find very inspiring.

Noah is just one of the many students at PHS that go unseen every day while doing hard task willingly. I feel as if he and other students do not get recognized enough for their care for others and their kindness, mainly because everyone is so focused with their own day-to-day lives to even stop and take a look at all the amazing things being done around them. Being a good person is easy but being a great person takes time and effort. In my opinion, Noah shows the characteristics of a great student and overall human being.