Covid-19 Vs. Potosi High School Cheerleading
It is no surprise that Covid-19 has completely changed the world that we live in. Staying six feet apart and wearing masks everywhere is our new normal. Going back to school and beginning sports seasons has been a hard adjustment for everyone, but the Potosi High School cheerleaders are doing their best to get through it and make the most of their season.
Going into the season, freshmen had no clue what to expect, but Covid-19 guidelines still caught them off guard. However, they are trying to stay as positive as they can. ¨I think the season is going pretty well, given that not everyone has had to quarantine. We are still able to build, travel, and do locker buddies for homecoming week. We are doing a lot more than I had expected us to do,¨ said freshman Kaitlyn Mosier. The freshmen have a little bit of a different perspective on the season than the seniors, though. Although they are still staying positive, they are not getting the season they have been waiting three years for. ¨I am discouraged that this is how my senior cheer season is going, but I try to look on the bright side of things because at least we are still getting a season,¨ said Aubrianne Singer. This season is not what anyone expected it to be, but everyone is still pushing through it.
The cheer team, among all of the other PHS sports teams, is taking all the precautions they can to make sure they are all healthy and can continue their season. It has been a huge change for the team, seeing as they are not used to not being close or not getting to work on stunts or dances for as long as they need to. Senior Rylie Smith said, ¨We use hand sanitizer every time we touch each other, build no more than 15 minutes, and wear our masks as well as stand 6 feet apart as much as we can.¨ Although she finds it hard, Rylie feels comforted knowing that she is not going through this alone. ¨Knowing we are all going through it makes this a lot easier,¨ Rylie said.
The entire cheer team is working extremely hard to get through this season. They are extremely excited knowing they have gotten three games in already. The amount of positivity within their team is extremely inspiring, but there are still times that it gets hard. ¨We had so many plans for this season to accomplish our goals, but with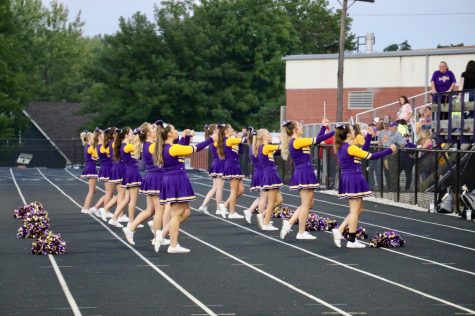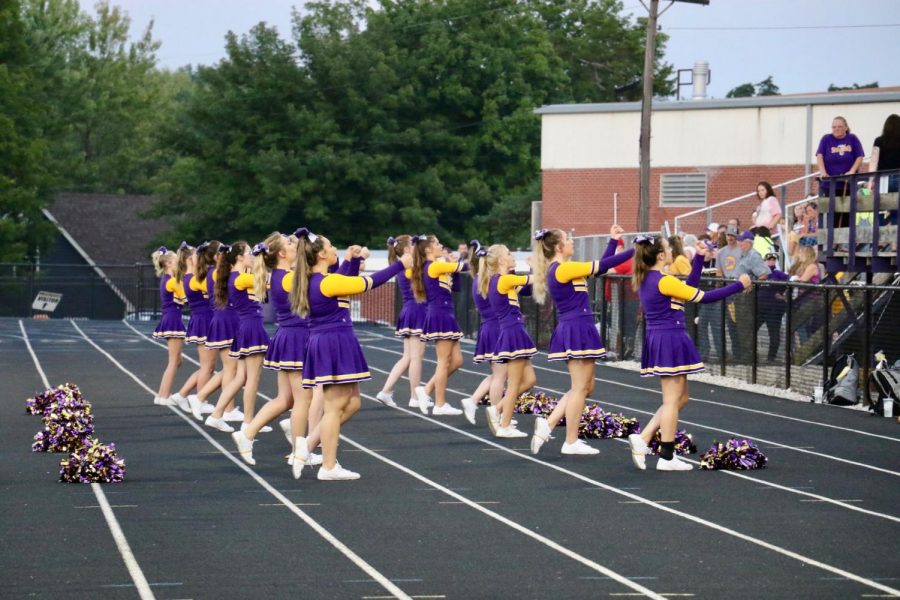 Covid, it is a lot harder. We have girls that are sick or in quarantine so it makes it hard to achieve those goals when half of our team is out,¨ Rylie Smith stated. The team is still working very hard and despite everything, are keeping an open mind and know that the health and safety of everyone is the most important thing.
The cheer team will continue to push through the season and wish the best of luck to the football team and all the other sports teams. ¨I hope we get to finish the season, but even if we do make it to the last game, there have been so many things taken away from our season that I would never call it a complete season. There will always be something missing, but I am grateful that we made it this far,¨ said senior Sydney Litton. No matter what happens throughout the remainder of the season, the cheer team is very thankful for the time they did get to spend on the sidelines this season and hope they get to continue for as long as they can, no matter what precautions they have to take.
About the Writer
Rilee Bone, Editor
I am the Yearbook Editor of the Potosi High School Yearbook. I am a senior and this is my 4th year of yearbook. I am also a PHS cheerleader, in National...