Life as an In-Seat Student Changes During the Covid-19 Pandemic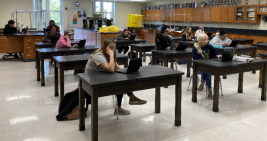 Students at PHS had the option of either doing online learning/ virtual or in-person learning for the 2020-2021 school year. The majority of the students chose to do in-person learning. Even though they still come to school like they would every other year they still have to deal with a lot of changes.
One change that has happened to in-person learning for students is that there is a seating chart everywhere students go. Sophomore Isabella DiFiori said, "I don't get to sit by any of my friends in any of my classes which makes it where I hardly ever get to talk to my friends."
Junior Sydney Hampton explained, "We now have seating charts in every classroom and in the cafeteria, in the mornings we don't get to sit in the cafeteria and eat our breakfast. Now we have to eat our breakfast in our first hours. Eating breakfast in our first hour complicates things. For example, students who have Mr. Urich or Mrs. Portell has to take extra precautions because of the computers on the desk."
While students are encouraged to wear masks, at this time they are not mandated. DiFiori expressed her opinion about the mask.
She said, "I feel like mask wearing should be mandatory if we can't properly social distance. Masks aren't fun but I feel like they're definitely good precautions to take."
Sydney Hampton who admits to not wearing a mask frequently had almost the same point of view saying, "As for the mask rule goes, I think they should be mandatory because no matter how hard the administration tries nobody will ever be six feet apart in the hallways."
Although this year has been quite a start with all of the new rules with seating charts and masks, teachers are trying to continue the tradition for assemblies and parades that the students are missing. The staff are dedicating their time to bring them back for in-person students and virtual students by doing homecoming idol auditions online. The dedication that Potosi High School has brought for the students that are doing in-person schooling is greatly appreciated.
Other changes include only seven people per lunch table with seating charts. Some more changes are seating charts in every class, four people to a bathroom, six feet apart in lunch lines, tables cleaned after every hour. Also in art you can not share supplies and have to have your own.
Leave a Comment