Senior Transitions Into PHS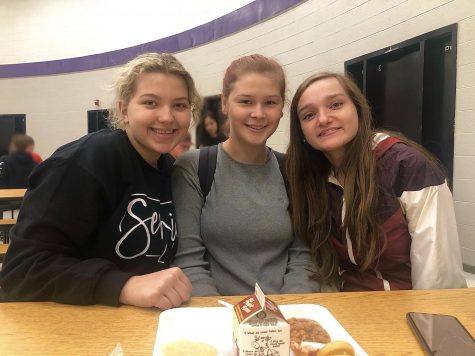 The new school year can make anyone anxious, especially for students transferring schools their senior year. Kelsey Benson moved 270 miles away from a school she had been going to since the third grade, to be specific, Kansas City to Potosi. 
Benson stated that the transition was hard, but being close to her family was important to her. Kelsey and her siblings were separated from her parents when she was eight. Benson said, "We went to four foster homes before my aunt and uncle adopted me and my sister. My grandma kept my three brothers, keeping them in Potosi. We only got to see them on holidays." Now she's able to see them whenever she wants for the first time in nine years.  
Although she was nervous, the PHS students welcomed her with warm smiles. Benson said, "It was hard to talk to people in my other school, but it was so easy to talk to people here." By the third week of her senior year, Benson stated that she feels like she fits right in. 
Benson has noticed the great spirited pep squad, and loves supporting her classmates at the latest football games. Although she's taking in all of the serotonin that FNL gives out, she is anxiously waiting to try out for basketball cheer next semester. Kelsey cheered her 8th and 9th grade year, but wasn't able to after because she didn't make the team. Benson said "I love the community built into cheer. Everyone is so positive and encouraging. My teammates always pushed me to do my best."
After high school, Benson is wanting to go straight into the workforce. College is on her mind, but not planned for the near future.