Varsity Lady Trojans Third Win of the Season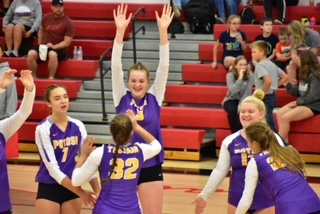 Steelville- On Wednesday, September 7, Volleyball team Lady Trojans took the win against the Steelville Cardinals. 
Looking back on the game, Junior Paige West said, "When I get a kill I feel happy, excited. My emotions are through the roof. More importantly I'm happy for my team, my family." 
Steelville Cardinals overpassed and Sophomore Ava Robart used it to her advantage to hit it back at them.
Sophomore Cloey Wigger served the ball that didn't make it back over to the Trojans. Robart served a short ball leaving the Steelville Cardinals scrambling to get it over. 
The Lady Trojans used the free balls and tips sent over by the Cardinals to set up their hitters. The two teams go point after point. 
The Lady Trojans had a 25-16, 25-17, 25-16 victory. 
"After you win a game you feel more confident for your next games," Senior Kadence Sadler said.
The varsity team will be playing at home against the West County Bulldogs, on Sep. 22 after the JV plays at 5:30 p.m.