How I learned to Stop Worrying and Love Aquaphor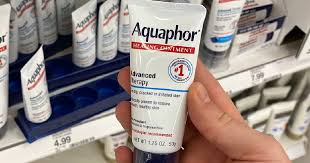 Aquaphor is a dermatologist-recommended healing ointment used to prevent dry, rough, scaly, and itchy skin.
You simply apply to the affected areas of the skin as needed or as directed then rub around to gently melt the ointment.
Aquaphor comes in many different sizes ranging from 0.75 oz chapstick tubes to 14 oz containers each used for different scenarios.
Great for:
Dry hands

Cracked feet 

Chapped lips 

Minor cuts and scrapes 

Minor burns 

Diaper rash 

Cracked skin 

Drool rash 
Prices range from $5.49 – $15.97
Aquaphor is similar to Vaseline however there are many differences between the two such as:
| | |
| --- | --- |
| Vaseline  | Aquaphor  |
| Contains 100% petroleum jelly  | Contains petroleum jelly as well as mineral oil, ceresin, lanolin, panthenol, glycerin, and bisabolol  |
| Strictly occlusive | Occlusive with extra other moisturizing ingredients  |
| Better for wound healing and lanolin allergies  | Better for moisturizing  |
I recommend this product to all people I personally use this 10-20 times a day. I use it as a chapstick because it doesn't feel gross and thick like chapstick does and it makes my lips soft and glossy.
I rate this product a 5/5