Senior Krebs places first and Junior Barron places second in the Farmington singles tournament. The team overall took fourth.
Krebs didn't let a rough start early in the match diminish her determination to win first. After being down 6-2 she came back and won 9-8 after going into a tiebreaker with Mehlville's number 2 singles.
Muller said, "I would like to praise Tori Krebs for her 1st place finish. She could have easily given up down 6-2 but battled back to take the win."
Placing second in the number 5 bracket, Barron went 2-1 for the day.
Story continues below advertisement
Barron said, "I just had to focus on the next point and the good, not my mistakes and the setbacks."
The Lady Trojan tennis team will be at Farmington on Wednesday Sept 20 for a doubles tournament.
Tori Krebs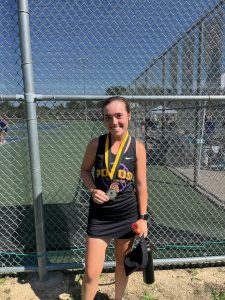 8-5 win against Washington HS
8-1 win against Windsor HS
9-8 (8-6) win against Mehlville HS
Hannah Barron
8-1 win against Charleston HS
8-2 win against Mehlville HS