Potosi Girls Tennis beats Saxony Lutheran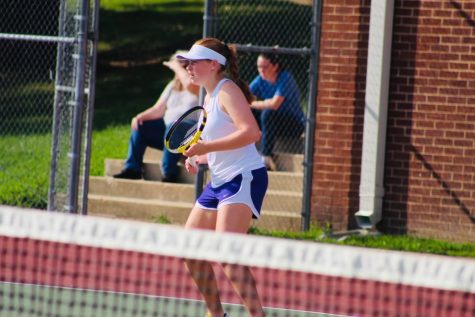 On Monday, September 28 the Potosi girls tennis team played Saxony Lutheran at 4:00 at the Potosi Sports Complex. The score was 5-4 with Potosi winning the match. The girls came back from a few losses to secure the victory against Saxony Lutheran. 
The wins include Michelle Whitaker in singles(8-0) and doubles with her partner Sarah Hornsey(8-3), Emma Hoffman singles(8-7) and doubles with Molly Hamby(8-4) and Tori Krebs singles(8-0). Coach Mueller states that the girls are very prepared for districts this year in singles and doubles and they are very much ready to play. 
The girls play their next home match on Tuesday, September 29 at home starting at 4 P.M. On Wednesday, September 30 they will continue with the MAAA Tournament at Farmington High School.