Potosi FFA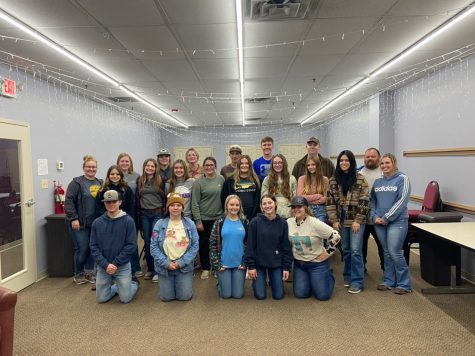 This year the Potosi FFA Chapter was able to attend the 95th National FFA Convention and Expo. This is an opportunity wanted by many but only granted to a few. Nineteen of our fifty-three members earned their trip. During this extended field trip, there were many fun and educational activities planned for all of us. The two activities that I found to be the most memorable were the Twisted Room Escapes and Conner Prairie. The Escape Room allowed us to bond extensively and create more memories and family-like ties. There were three rooms for our large group to break out of. Whereas the Conner Prairie took us back in time. We got to explore the first home of William Connor along with visiting the Hoosier nation during the civil war in 1863.
The first room was labeled "The Cabin." In this room, the players were hikers lost in the woods. They had to "find" their cabin and use the outhouse outside to gain access to the cabin. Once in the cabin, the group had to find useful tools within to help rescuers find them. These tools included identification cards, checkers boards, codes and even an AM/FM Radio. This group, composed of Mrs. Long, Rylee McDonnell, Julia Blair, Adria DeClue, Harlee Kley, and Baylee Valentine, made it out with two minutes and forty three seconds to spare. 
The second room was "The Collection." In this room, students had to search through collections of various items that belonged to Horace von Crump, a world traveler and collector of mystical and bizarre artifacts. Horace has an uninvited guest, also known as a poltergeist. Visitors to this room are to locate the haunted item. The team consisted of Scarlett Pinson, Myla Blair, Jake Phares, Lilly Paisley, Wyatt Mull, Magnum McCormack, Shannon Riddle, and Mrs. Griffin. This team made it out with only five seconds to spare.
The third room, which was the one I fought to get out of, was "Missing Maestro." According to the website, in this room our character, Leopold Stubernski, conductor of the Twisted Symphony, received death threats. All the while, one of his musicians craved his time in the spotlight, hence the death threats. The students' jobs were to investigate the Maestro's private quarters and discover the whereabouts of the Maestro in time for his big performance.  This group included Hannah Schwendemann, Aubrey Lynch, Gabby McDonnel, Blaire Miller, Lilly Lands and our bus driver, Heath and myself. 
While in the room, I learned a lot about myself and the other FFA Members I worked alongside. I learned that some of those who I thought were followers were actually very outstanding leaders. I learned that we can become a great team and figure out how to communicate best with each other in under sixty minutes. Certain people needed me to communicate gently with them, others needed a stern voice. There were times that I was flustered because I wanted so badly to win. I think the time crunch really brought out all of our true personalities. We all work differently under pressure, but that isn't a bad thing. Afterall, diamonds are made under pressure. In the end, we only had 41 seconds to spare. 
On Wednesday we got to travel back in time when we visited Conner Prairie.
"Conner Prairie is a living history museum in unincorporated south-central Hamilton County, Indiana, which preserves the William Conner home. The home is listed on the National Register of Historic Places, and the museum recreates 19th-century life along the White River." When we first walked into the settlement we visited the Golden Eagle Inn. When walking through, we were greeted by the innkeeper. She then pointed us to the back where there were women making sausage for their soup, as well as lye soap. 
Next, we visited the home of Dr. Campbell's. Here, his servant let us know that he and his wife were out of town at the time. His servant then told us to walk amongst the home as we liked. We meandered through the kitchen and back room. As we rounded the porch, we walked into his office. In here there was an entire back wall of natural, herbal medicines. He also had several drawings of the human body on the wall. These drawings were very simple compared to the knowledge of the human body in this day and time. I also was able to look through his medical journal. In his journal, it gave detailed descriptions of different procedures he had performed or seen performed. The one that stood out to me was the description of cutting open and accessing the skull to relieve the pressure. This is mind boggling to me and shows how far we have truly come in modern medicine. 
After leaving Prairietown we then made our way to the 1863 Civil War Journey Raid on Indiana. Here we visited the Mayfield and Nichols Dry Goods Store where we met a lady that was responsible for cleaning up and taking care of the store after it had been raided by General John Hunt Morgan and his troops. She had explained to us that the troops had come and basically took everything, destroyed the store and left threats but not only did she explain this to us we got to experience it too. There was a video displayed showing a boy running and warning everyone that General Morgans Troops were coming to invade and attack Indiana. All you could hear were gunshots and horses trampling causing things to fall off the shelves.
We then left the store and made it over to the field hospital. This was where their surgeons or doctors would take care of or "repair" soldiers that were in the war no matter from what side they were on. Union or Confederates the doctors were there to help. We learned that they would have many many many soldiers in there at a time and that they had different types of chloroform which was a medicine they used for anesthesia. It could be used lightly or strongly; it just depended on how bad or fatal each soldier's wounds were. 
Our last stop in the 1863 Civil War journey Raid was a theatrical experience where we met and learned about General John Hunt Morgan and the townspeople's thoughts on the raid and each other. 
At the end of the trip I was really grateful for all of the fun, meaningful, learning  experiences I had with all of our newer and older members and I will cherish all of the memories I made, especially at the escape rooms and Connors Prairie.